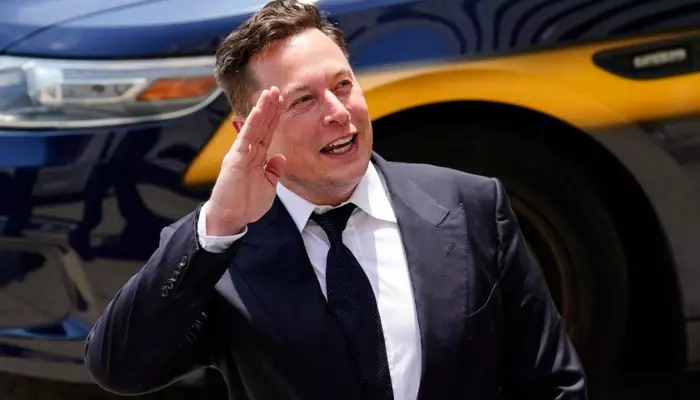 Wall Street has been in a frenzy in recent years when a company announced it would split its stock. When Tesla (TSLA) announced such plans in 2020, its stock price immediately surged. Over the next 12 months, they increased by 66%.
But those days may be over as worries about the Fed, inflation and the economy plague investors.
Tesla announced Friday that it will ask investors to split its stock by a 3-to-1 ratio at its annual meeting in August. But the stock was little changed after Friday's close, having slipped in premarket trading on Monday. Shares have fallen more than 30% since the company first announced its stock split in late March.
In a 5-for-1 split, the person who owns one share at $100 would get five shares at $20 each. A 3-for-1 split would split three shares worth $33.33.
This might not sound like a big deal. Historically, however, it has helped spur demand by making stocks more accessible to everyday investors.
It also increases the likelihood that companies will be included in the Dow Jones Industrial Average, which tends to include cheaper stocks. Apple announced a 7-for-1 stock split in 2014 and entered the Dow in 2015.
In the current market environment, it's hard to get anyone excited about Tesla or its many fast-growing competitors. Amazon's 20-to-1 stock split went into effect last Monday. Its shares are still down 25% year-to-date. Alphabet, which owns Google, will split its stock 20-to-1 in July. The stock is down 23% this year.
All three companies took a hit on Friday after government data showed U.S. consumer prices rose at the fastest pace in 40 years. The consumer price index rose 8.6% in the 12 months through May.
That ended the S&P 500's worst week since January. The worry is that higher inflation will push the Fed to raise interest rates more aggressively. When interest rates rise, it hurts stocks like Tesla, whose prices are tied to expectations for long-term growth and earnings potential.
Tesla has seen a lot of money disappear from its valuation this year. In January, it was worth $1.15 trillion. Its market cap is now $722 billion.
CEO Elon Musk's recent warning that he has a "super bad feeling" about the economy, coupled with confusion over whether he plans to cut jobs at the automaker, doesn't help. Federal investigators also said last week that they were expanding their investigation into a Tesla that drove into a parked first responder vehicle.
At some point, Wall Street's bargain hunters may enter the scene, providing a bottom for stocks that have been battered by the recent sell-off. But that moment has yet to come — even with a stock split on the table.
$5 gas has arrived. is $6 around the corner
The national median price of a gallon of regular gasoline hit $5 for the first time over the weekend as drivers brace for a painful summer.
Natural gas prices have risen steadily over the past eight weeks. The latest milestone, reached on Saturday, marks the 15th consecutive day of record AAA ratings.
The average price of a gallon of gasoline was $4.42 a month ago and $3.08 a year ago. But the pandemic and war in Ukraine have strained energy supplies and pushed up prices.
Rising fuel costs are a big reason why U.S. inflation has risen so rapidly. Energy prices surged nearly 35% in the year to May, according to data released on Friday.
That has raised concerns that consumers may become more frugal, which will hurt the economy. Consumer confidence hit a record low on Friday, according to a University of Michigan survey.
Natural gas prices are unlikely to stop rising. Demand for gasoline will skyrocket as the summer travel season kicks off. While some oil producers have pledged to boost supply, that is unlikely to offset the deficit as Western traders move away from Russian crude.
The U.S. national gasoline price could average close to $6 later this summer, said Tom Kloza, director of global energy analysis at the Oil Price Information Service.
"Everything is from June 20 to Labor Day," he said last week of gasoline demand for the long-awaited holiday. "If hell or high gas prices come, people will go on vacation."
The country with the highest average price is California. Saturday is $6.43 a gallon.
There are really more weddings this year
As I browse social media lately, I have to ask myself: Will more people get married this year?
Signet Jewelers, which recently released its quarterly results, has a clear answer: yes.
The world's largest diamond jewelry retailer said weddings reached their highest level in 40 years after the coronavirus subsided.
"We've seen an increase in wedding rings, anniversary rings, bridal jewelry, gifts for the bride and groom, and things like that," Signet's CEO told analysts.
The company said it's working to convince engagement ring buyers to return their wedding rings. According to Signet, engagement is expected to return to pre-pandemic levels this year.
Shares rose last week after the company beat Wall Street's earnings estimates. But they are down more than 20 percent so far this year as diamond prices have risen.
Learn more: